The COVID-19 pandemic has turned life upside down for almost everyone, and University of Kentucky students had to quickly adapt to finish out a semester that was unlike any other in UK history. Maria Sanchez, who graduated from UK this May, was no stranger to these challenges. Sanchez chose to share her personal story of family, hard work and resiliency, and how she plans to use her skills and experiences to create a better tomorrow.
From Mexico to the U.S.
Sanchez has lived in Chicago for more than half of her life and identifies as a Chicagoan. However, she was originally born in Mexico City and lived in the city's outskirts as a young child. Her father died when she was just 1 year old, leaving her mother as the only person who could care for her.
A few years later another traumatic event occurred — their home was broken into. Sanchez recalls the broken windows and their belongings scattered across the floor.
"Just as our tables and chairs had been turned upside down, my life at the age of 7 had been ransacked," Sanchez said. "Robbed of the feeling of comfort that home was supposed to provide, my mom and I fled to the United States only a couple of weeks after the incident. Like other immigrant families, we were looking for a new home, one that felt safe."
Sanchez's mother had owned a poultry shop in Mexico, but after moving to the U.S. she worked for less than minimum wage at any job she could get. Sanchez recalls helping her mother out with these jobs throughout most of her childhood and adolescence, including babysitting and cleaning houses.
"Sometimes I was right there with her, helping her in whichever way I could — vacuuming, wiping down chairs and tables, or just telling her about my day just so we could spend time together," Sanchez said. "I learned how to bargain and translate and pay bills at the same time that I learned to write in English at school."
Despite the newly added pressures and expectations to succeed as an immigrant student, Sanchez says there was never a moment where she felt afraid of their new circumstances — a feeling she carries with her to this day.
"My mom has instilled in me the courage to persevere and to do so with confidence, humility and good humor," she said. "I am proud of the work that my mom does, but I also know that her struggle is the struggle of millions of other domestic workers in this country."
Coming to UK
Growing up, Sanchez always knew she wanted to go to college, but as a first-generation college student, the process was challenging.
"The college application process was difficult for me to navigate, and there was a point during my senior year when I didn't think we'd be able to afford it," Sanchez said.
And then, something happened that changed everything.
Sanchez, who was involved in her high school's policy debate team, was recruited by the University of Kentucky's debate team, offering a four-year, full-tuition scholarship. She visited the campus that spring of her senior year, which sealed her decision. She was going to be a Wildcat.
She began her freshman year in the fall of 2016, fully diving into the world of intercollegiate debate, which she describes as a rigorous academic activity unlike any other.
"The Kentucky Debate team is a demanding environment that sets a high bar for debaters both during multi-day competitions and in the months of preparation that occur before a tournament even begins," Sanchez said.
During her time on the team, UK was ranked as the top policy debate team in the nation in 2019 and went on to win the post-season national championship, achieving this honor over both Harvard and Berkeley.
"Debate has allowed me to obtain invaluable experience in critical and persuasive writing, public speaking and rigorous research in a wide variety of important policy issues — all while doing it in a competitive team environment," she said.
For her academic studies, Sanchez ultimately declared three majors in the UK College of Arts and Sciences: political science; environmental and sustainability studies (ENS); and international studies, with an emphasis on Latin America and comparative politics. She also participated in undergraduate research under the guidance of Lauren Cagle in the college's Department of Writing, Rhetoric and Digital Studies. Sanchez was one of the six undergraduates selected to receive an Intercollegiate Summer Research Experience Fellowship by the UK Office of Undergraduate Research, where she conducted research at the University of Delaware's Center for Experimental and Applied Economics.
"I have always been very naturally curious and, as a debater, I have learned to approach problems from multiple perspectives and disciplines," Sanchez said. "Through my time at UK and the time I've spent thinking about my own research interests, I realized that I wanted to explore transnational environmental problems and how global and local dynamics can impact ecological processes. I am a firm believer that climate change will be one of the biggest challenges of our lifetime. Having a multidisciplinary understanding of the way that it will impact every facet of our current society is not only desirable, but necessary."
Outside of debate and her studies, Sanchez was an active member of Sigma Lambda Gamma National Sorority Inc. (a Latina-based multicultural sorority on campus), and served as a student ambassador for her college, which allowed her to share her personal experience as a first-generation college student with prospective high school students. She was named the 2018-19 Student Ambassador of the year by the College of Arts and Sciences.
"It was certainly one of my favorite experiences at UK, because I wanted to be a source of help for students that were struggling through the college process like me, particularly those who are students of color, low-income or who will be the first in their family to go to college," Sanchez said. "Although I came to UK through a more unconventional path, I don't regret my decision and I have taken advantage of my time on campus to help prospective students navigate the college admissions process."
Spring 2020
Like most 2020 seniors, Sanchez was finalizing her studies and preparing for a "normal" graduation earlier this year when the global COVID-19 pandemic changed everything. Like many others, she didn't initially realize the magnitude of it.
"I had already planned to go home to Chicago for Spring Break, but once I was there, I realized that the two-week transition to online classes was not going to be just a temporary adjustment," Sanchez said. "It was a glimpse of what will continue to be a long battle against this pandemic."
Sanchez's mother, who normally cleans houses for a living, suddenly found herself without her usual stream of income, and Sanchez stepped up to help.
"My mom is significantly more at risk because of her age, and because she is an asthmatic," Sanchez said. "As the COVID-19 crisis progressed, I helped my mom apply for mutual aid funds and even filed her 2019 taxes in order to help her get a stimulus check. Thankfully I was able to continue doing my research assistant job remotely, but nonetheless, I spent a lot of time finding resources available that could be of help for our household."
She says while it may be easy for some to think that online classes gave students more free time, the reality for her and many others is that they became primary caretakers — taking on additional jobs as others in their households suddenly found themselves unemployed — while continuing to be full-time students.
Sanchez also notes she did not have internet access at home, until she filled out UK's student support survey and received a hotspot in the mail.
"Some students like me did not have reliable access to the internet, or to a computer," she said. "Some lost close relatives or friends. While we all reached the end of the semester one way or the other, we each faced unique challenges to get there."
She said many of her professors helped make the most out of the situation and gave her and her classmates a much-needed sense of community.
"In my ENS capstone class, our professor Betsy Beymer-Farris restructured the syllabus to make it as accommodating as possible for all of the students in the class," she said. "When our class met via Zoom every week, Dr. Beymer-Farris created a comforting atmosphere that allowed us to check in with each other, talk about how our lives had changed since we had last met and even encouraged us to introduce our pets to our classmates. It felt more like a family or a community. I became even closer with the people in my class and for that I am grateful."
Sanchez also credits her international studies professor, Monica Udvardy, who she describes as "incredibly compassionate and inspiring."
"When some of my classmates and I were worried about not being able to be released from our leases earlier than the stated end dates, she reached out to the dean of students to see if there was any recourse for us through the university," she said.
Udvardy was also helpful as Sanchez completed her thesis, which she says was one of the toughest writing projects she has done during her undergraduate career. Udvardy met with her via Zoom to discuss her drafts outside of their regular class meetings.
"The structure of her class and the fact that she kept us engaged in the class material through lively discussions and debates, all while mentoring us through one of the most challenging courses of our undergraduate careers, was one of the few things that made me feel normal again," Sanchez said. "Overall, I leave UK feeling inspired and grateful to have been Dr. Udvardy's student."
Graduation
Now that the semester is over, Sanchez admits she grieved not having a traditional commencement ceremony.
"As a first-generation college student, the day of Commencement was a day to celebrate an important milestone that I have worked years towards, and for which my family has supported me unconditionally through," Sanchez said. "It was a day I had always dreamed of."
However, as the COVID-19 crisis progressed, Sanchez says she realized that staying home and practicing conscious social distancing was the least she could do to keep others safe. Missing Commencement was a worthy sacrifice.
"If by staying at home I can help prevent someone's mother, father, brother, sister or close family member from potentially getting COVID-19, then I will not think twice about it," Sanchez said. "While I had been looking forward to a graduation celebration, I value the health and well-being of my friends and family much more."
Sanchez also decided the pandemic would not stop her from celebrating the Class of 2020 — safely from home, that is.
"The ENS faculty held a virtual graduation ceremony for all of the graduating seniors, where faculty, alumni and current students had a chance to say words of encouragement for our graduating class — just thinking about it is making me tear up," Sanchez said. "While I know I would have enjoyed celebrating in person, our virtual commencement felt nonetheless special, and perhaps even more intimate than it otherwise would've been, since we weren't as time-pressed and professors were able to share nice sentiments about each student that they otherwise wouldn't have been able to."
Looking Ahead
Sanchez is currently applying for jobs in Chicago and Washington, D.C., hoping to attain real-world experience with a policy advocacy organization. Though the job market is uncertain at the moment, Sanchez says UK has equipped her with the tools necessary to succeed even during these unusual circumstances. While she's taking at least one year off from school, she hopes to eventually pursue a doctorate in political science or geography, or a master's in public policy.
"We'll see what the future holds," she said.
Sanchez says the COVID-19 crisis has motivated her to use her new degrees and experiences to discover what's possible for bettering people's lives, especially for families like her own.
"Domestic workers, like my mom, are already living in precarious conditions and are now facing even more hardships during this pandemic," she said. "What drives me are those small glimpses of what could be — finding adequate housing for homeless people free of charge, creating flexible work arrangements, not just celebrating essential workers but paying them what they deserve and expanding financial assistance for those who are struggling the most.
"I want to be a part of the next generation of change makers that takes those small glimpses of hope and turns our 'new normal' into brighter successes. I hope that we take a moment to think about how we can use these circumstances to fight for an even better 'normal.' I encourage the Class of 2020 to seize this moment."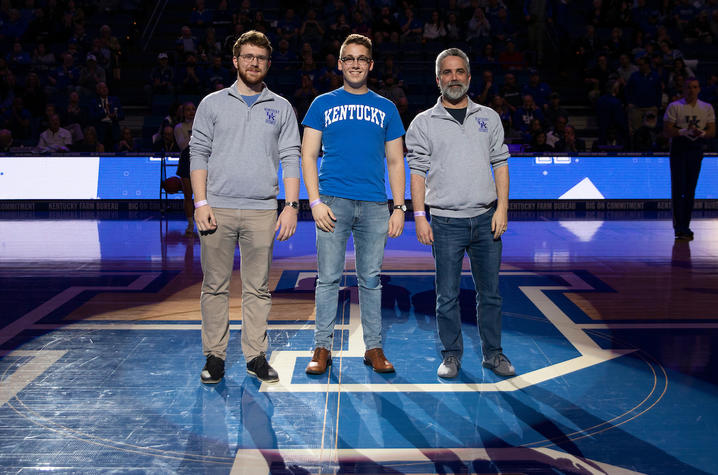 Last March, the University of Kentucky Debate Team of Dan Bannister and Anthony Trufanov defeated the University of Georgia to become the 2019 National Debate Tournament (NDT) champions. This was the second win at the NDT for UK and the first in 33 years. The previous winning team was Ouita Michel and David Brownell in 1986.
To make it to the final round with Georgia UK had to defeat some of the best teams in the country such as Northwestern, Cornell, Berkeley, Michigan and Kansas.
During the Tuesday, Feb. 4, men's basketball game at Rupp Arena, UK honored both Bannister and Trufanov, along with David Arnett the debate program director.
Most recently the UK Debate Team, housed in the College of Communication and Information, started their 2019-2020 season off strong by winning the three-day Hoosier Invitational, hosted by the University of Indiana. The UK team is now preparing for tournaments at the Naval Academy and the University of Texas-Austin as they continue to defend their national champion title.

The University of Kentucky Intercollegiate Debate Team is already off to a strong second semester of their 2019-2020 season by winning the three-day Hoosier Invitational, hosted by the University of Indiana.
Winning the annual tournament is not a rare accomplishment for UK, the defending National Debate Tournament champions. What is rare, however, is how it was accomplished and with whom.
The Hoosier Invitational annually features many of the top debate programs in the country. At the end of the tournament, it was the two Kentucky teams left standing in the final round, in which case the tournament declared co-champions. That is rare. Even more rare considering three of the four UK finalists were freshmen.
"The team was very prepared and did a great job executing in the debates. For a young squad this was a big step as we try and find our identity," said David Arnett, director of debate
The team of Genevieve Hackman (senior) and Christopher Eckert (freshman) were 7-0 and the top seed with impressive wins over Berkeley, Michigan and Minnesota. The all-freshman team of Alan Ivackovic and Christopher Lucas were 6-1 and the second seed after preliminary rounds with some great wins over Dartmouth and Michigan State.
In the final four round, Hackman and Eckert defeated Dartmouth on a 3-0 decision. Ivackovic and Lucas won a tough 2-1 against a very strong Michigan team.
The UK team is now preparing for tournaments at the Naval Academy and the University of Texas-Austin as they continue to defend their national champion title.
WASHINGTON — For the 20 Democratic candidates who tussled onstage in Detroit last week for their party's nomination, the debates were a chance to goose poll numbers, undercut rivals and wring donations from potential voters.
For the nearly 200 students who attended a summer debate program last week run by the Washington Urban Debate League, the contests were something else: a lesson plan.
The program, a two-week boot camp for middle and high schoolers held at the Washington Latin Public Charter School, enrolls mostly minority students from underserved backgrounds. The presidential debates offered a teachable moment, said David Trigaux, the league's program director.
"We always try to find ways to connect to what's going on in the public discussion," he said. "The timing of the debates couldn't be better to provide examples of some things to do and some things not to do."
Across two harried nights of intraparty sparring, the campers, sorted into "labs" according to experience, found examples of both. They are not yet old enough to vote, much less stand for the highest office in the land. But they could probably debate circles around those who are.
The camp has a scholastic feel; less hiking and canoeing, more nine-to-five instruction in the art of cross-examination and rebuttal. In a math classroom on Thursday, a lab of junior varsity debaters simulated Wednesday night's presidential showdown, with each student adopting the role of a different candidate.
"Global warming is the first thing we should focus on," said Brooke Roberson, 12, giving a convincing impression of Gov. Jay Inslee of Washington, who has staked his 2020 run on climate change. Earlier that day, she hunched over a laptop watching clips of debate highlights, absorbing the candidates' platforms, attack lines and speaking styles.
"The first thing we have to worry about is how to beat Donald Trump," countered Darrian Carroll, a University of Maryland doctoral student who helped lead the lab, mimicking former Vice President Joseph R. Biden Jr. "We won't stop global warming if we don't beat Donald Trump."
"But do you have a plan, other than to beat Trump?" pressed Tyler Davis, 13, channeling Representative Tulsi Gabbard of Hawaii.
Role-playing the presidential contests helps less experienced debaters hone their rhetorical skills, said Hiba Sheikh, 24, the lab's other leader. It also magnifies differences. In the type of competition the campers practice, called policy debate, judges grade opposing teams, each composed of two debaters, according to the strength of their arguments as well as the evidence they present. "Thinking about presidential debates through a policy debate lens makes you really see what claims they are making and how they are substantiating those claims," Ms. Sheikh said of the presidential candidates. "And often they're just not substantiating them."
One floor away, a lab of 12 varsity debaters looked for parallels. The candidates' liberal use of ad hominem attacks might not fly in a policy debate round, said Jackie Poapst, the assistant director for George Mason University's debate team, who led the discussion. But deploying strong opening statements to prime an audience and stressing the far-reaching effects of policy certainly would.
Ms. Poapst's students watched Wednesday's debate as a homework assignment. For over an hour, they picked apart performances, zeroing in on effective attacks (Mayor Bill de Blasio of New York and Ms. Gabbard) and key clashes (Senator Kamala Harris of California versus Mr. Biden on health care; Senator Cory Booker of New Jersey versus Mr. Biden on criminal justice).
"It's impressive just how much more they do than us and how much less they do than us at the same time," said Timothy Neal, 15, comparing his fellow campers with the presidential hopefuls. "On one hand, we talk about one resolution a year, and they had, like, six of those in that one debate," he added, using the term for the topic students debate over a 10-month season. "And on the other hand, we talk about one resolution a year, and we aren't dodging questions and salting each other."
The presidential debates can also influence the varsity students' own arguments. In policy debate, students present real-world proposals and actionable plans to enact them. That often means considering shifting political winds. This season's resolution, that the United States limit arms sales to foreign governments, is complicated by the impending election, said Lola Rogin, 14. "If something political changes, and it could be anything, it changes the trajectory of debates."
In the past two years, the campers have sparred over issues like education and immigration — topics that bear directly on their own lives. Many of them come from immigrant backgrounds, and the issue of foreign arms sales can also sometimes hit close to home. "That's something that they can really understand, because there's gun violence in D.C.," Mr. Trigaux said.
Since its inception in 2015, the camp has exploded from just 32 students to hundreds. The league has grown from a handful of schools to nearly 50, all of them public schools in Washington and nearby Prince George's County, Md.
About 30 cities, including Baltimore, New York and Chicago, have urban debate leagues. (Detroit's urban debate camp starts this week.) The leagues aim to bring debate to disadvantaged populations. The Washington league, which hosts tournaments during the school year, lowers barriers to participation, providing coaching resources and transportation to competitions. The camp, which is free, serves every attendee daily breakfast and lunch.
"We will never make the kids pay anything," said Norman J. Ornstein, a resident scholar at the American Enterprise Institute, whose foundation funds the camp. In 2015, Mr. Ornstein and his wife, Judy, started the foundation in memory of their son, Matthew, a former policy debate champion who died of accidental carbon monoxide poisoning. The camp bears his name. Including facilities costs, payment for staff members and food, this year's price tag approached $100,000, Mr. Ornstein said.
Being in Washington also has its advantages: Volunteer judges have included Capitol Hill staff members, a Secret Service agent and other government employees. On Friday, at the close of a campwide tournament, Mr. Ornstein read from letters addressed to the students from Barack Obama and Hillary Clinton. (High school debate "set me up for success in college, law school, in advocacy and law practice, politics, public service, and, of course, winning arguments with my husband!" Mrs. Clinton wrote.)
For some campers, studying the presidential contests made debate more relatable. "It's cool to see that debating can be a real-life skill. It can persuade a lot of people," said Shabad Singh, 12, who played Ms. Harris in her lab on Thursday.
Others find value defending multiple perspectives and watching the candidates present competing ideas. "It's good to see your opinions played out on a larger scale," said Paola Almendarez, 15. "Because some people, and I would include myself in this, are so locked into what they think is right."
In Friday's tournament, she and Ms. Rogin, her debate partner, placed first among the varsity students. With that under her belt, did she have any advice for any of the 2020 Democrats before the next bout?
"Oh," she said, "where do I begin?"
In the spring of 1829, Cincinnati hosted a public debate between the utopian socialist Robert Owen and the popular evangelist Robert Campbell. Owen, a Welsh textile entrepreneur who had already established one failed commune in Indiana and would go on to establish several others, defended the proposition that all religions were founded on ignorance. Campbell, a prominent preacher, vigorously but courteously disagreed. At the end of the eight day spectacle, Campbell asked every member of the audience who still believed in Christianity to stand. All but three did.
It was a characteristically American scene, one that combined public education, popular religion, and highbrow argument with a fair amount of showmanship and self-promotion. Campbell would go on to publish the full text of the debate, urging readers to rationally appraise his defense of Christianity. Owen, an intellectual antecedent to today's New Atheists (and much else—he was also a proponent of the eight-hour workday, communal child-rearing, and universal public education), would have undoubtedly fared better with a modern audience.
Events like the Owen-Campbell debates, which combined spectacle with an Enlightenment-era faith in rational persuasion, were once a popular form of entertainment. Decades later, Abraham Lincoln's public exchanges with Stephen Douglas would help vault him to the presidency and inspire a style of argument that persists in American high schools to this day. Various other formats, from parliamentary to policy debate to Model United Nations, have been enthusiastically exported to hundreds of other countries by generations of American teachers and expatriates. Public argument is certainly not unique to the United States, but it is deeply ingrained in our educational and political culture.
In the age of Ben Shapiro, YouTube know-it-alls, and cable TV cheap-shot artists, however, debate is in bad odor. Owen's controversy-courting successors are more likely to be deplatformed than debated. Public argument is derided as shallow entertainment, time that would be better spent reading books or journal articles.The proliferation of bad faith arguments on the internet has produced a veritable dictionary of terms for underhanded debate tactics, from "gish gallop" to "reductio ad hitlerum" to "straw manning." Faith in the power of ideas has given way to pervasive cynicism about our ability to find common ground with ideological opponents. Debate, according to the critics, doesn't debunk objectionable arguments—it legitimizes and amplifies them.
For those inclined to agree with these points, a typical high school debate tournament will confirm many of your worst impressions. The participants are, by and large, nerds in ill-fitting suits, something critics of the activity never fail to mention. Speeches are often dominated by impenetrable jargon or empty bluster. For many students, a debate tournament or Model UN conference is a perfunctory résumé booster or an excuse to travel with friends.
Look beyond the bluster, however, and you'll find some genuinely useful correctives to our internet-addled culture of public disputation. Even if you don't believe in the power of persuasion, the simple act of preparing to engage with an ideological opponent forces you to rigorously examine your own ideas. The specialized jargon that draws a certain kind of high schooler to the activity, eager for a secretive mode of communication largely impenetrable to outsiders, serves a purpose. Specialized language can quickly convey complex information to a judge, a partner, or an interlocutor. More importantly, the rules of the game—and the simple fact that face-to-face communication imposes its own behavioral constraints—force participants to maintain a certain level of decorum throughout the competition.
What about the Nazis, you ask? Surely we shouldn't extend such courtesy to extremists: they deserve to be mocked, condemned, and maybe even shouted down. But we have all lived through a natural experiment in how public discourse looks without decorum, and the results are not pretty. The internet has no rules of engagement. The amicable exchanges of the early blogosphere have rapidly given way to the mutually assured embarrassment of Twitter and unmoderated comment sections. Breaching decorum to call someone out actually matters when labeling people Nazis or communists isn't an hourly occurrence, which is why a well-timed debate smackdown will always matter more than a sick Twitter burn.
Another point in favor of debate can be found in Noah Millman's beautiful tribute to his deceased high school debate coach in this very magazine. Millman's coach would constantly remind students that "the judge is never wrong," meaning that debaters should tailor their arguments to their intended audience. In policy debate, a unique argumentative subculture that is best known for students' rapid-fire speaking style, judges are actually required to submit "judging philosophies" that explain their argumentative preferences before tournaments, which students then use to fine-tune their rhetorical approach.
In debate-speak, "judge adaptation" is a competitive tactic, but the basic idea is surely familiar to every politician in the country. A speech to the Council on Foreign Relations will be quite different from a talk at a small-town Rotary Club. Audience adaptation sometimes results in shameless pandering or the dumbing down of ideas, but the truth is that most voters don't have the time, energy, or inclination to read policy papers or dive into the latest book on Universal Basic Income. Debate is a fundamentally democratic means of communicating complex ideas to the voting public, who will never adopt the reading habits of policy wonks, intellectuals, and the Extremely Online.
None of this is to say that cable TV shouting matches are good, or that every university in the country is obliged to invite Milo Yiannopoulos to spar with the campus Anarcho-Syndicalists. But election year debates, candidate forums with tough interlocutors, and public events that feature vigorous ideological disagreement are a healthy and necessary part of any democratic society. There will always be a place for white papers, wonks, and weighty tomes about health care policy. Surely there is also room for public argumentation.
I teach at a small Hungarian high school, and two of my students recently attended their first Model United Nations conference in Budapest. The experience was predictably awkward. Our school generously subsidized the trip, but American ideas about extracurricular activities are not exactly in vogue in rural Hungary, and I rather doubt my headmaster knew what the school was paying for. The opening ceremony took place in the magnificent Hungarian Parliament, but most of the adult speakers were underwhelming. A deputy minister mouthed a few cliches about sustainable development. Someone from an international bank droned on about the aftermath of the 2008 financial crisis before unironically exhorting us to "build bridges, not walls." A few debate coach lectures about audience adaptation would have done wonders for both speakers.
Then things started to perk up. The students roleplaying ambassadors from China and Russia were quite good at weaving their respective countries' foreign policy priorities into their opening statements. The young Hungarian representing the United States delivered a positively Trumpian blast highlighting our disproportionate contributions to the UN's coffers. The next day's sessions were equal parts lively, engaging, and silly. Both of my students seemed to enjoy the conference, just as I enjoyed my time on the policy debate circuit all those years ago. They may have even learned something. Long live the nerds in ill-fitting suits. Long live debate.
Will Collins is an English teacher who lives and works in Eger, Hungary.
For the first time in the program's history the Georgia Debate Union finished the 2018-19 season as the top varsity college debate team in both the American Debate Association and the National Debate Tournament's end-of-the-season rankings. Each ranking is derived from points that two-person teams accumulate for each tournament over the course of the season, which runs from mid-September to the end of March.
UGA's top ranking in ADA and NDT varsity points pushed it ahead of traditional college debate powerhouses Harvard, Emory, Northwestern, Michigan, Cal-Berkeley, Dartmouth, Wake Forest, among others.
The Georgie Debate Union was led this year by Advait Ramanan and Swapnil Agrawal, who won the American Debate Association national championship in early March in Athens. The ADA Nationals featured over 100 teams from all across the country. Next year, Ramanan will be working for City Year Americorps in Boston while also serving as an assistant coach for Harvard University's debate team. Agrawal, who was named a Schwarzman Scholar in December, will be studying in China before heading to Harvard Law the following year.
Nathan Rice and Johnnie Stupek finished second at the National Debate Tournament, which was held at the University of Minnesota (The NDT features the top 78 two-person teams in the nation). While Rice and Stupek lost to the University of Kentucky on a split decision, they defeated many teams on their way to the finals including students from Indiana University, the University of Michigan, Wake Forest University and Harvard University. Their appearance was only the second time UGA has been in the finals of the NDT and the first since 1997.  Next year, Rice will be serving as an assistant coach for the University of California-Berkeley's debate team, while Stupek will be serving as an assistant coach for Dartmouth College's debate team.
"What the University of Georgia debate team has accomplished as a squad the year is outstanding," said Adrienne F. Brovero, director of debate at the University of Mary Washington and chair of the National Debate Tournament. "To have their season conclude with two different teams reaching the finals of two national championships and qualifying three teams to the National Debate Tournament and having all three teams reach the elimination rounds, is a tremendous set of accomplishments. To finish first in not just one – but two – varsity rankings speaks volumes about the exceptional nature of this team. Topping one of the varsity rankings is a testament to the very high degrees of intellectual rigor, rhetorical skill, critical thinking, and quality research that this squad consistently brought to each and every debate throughout the season. Topping two is extraordinary."
"This is the first time that we have finished ranked first in any college debate organization rankings at the end of the season, let alone two of them," said head debate coach Hays Watson. "The Georgia Debate Union has and continues to be supported by a variety of organizations, including the Division of Student Affairs, Franklin College of Arts and Sciences, the UGA Foundation, the Richard B. Russell Foundation, and the Office of the President via the President's Venture Fund.  Our success in 2018-19 would have never been possible without that invaluable support."
LEXINGTON, Ky. (April 25, 2019) — For the University of Kentucky Debate Teamtoday is a big day — as in their day.
Mayor Linda Gorton has declared April 25, 2019, UK Debate Team Day in Lexington to celebrate the team's season long top national ranking. The proclamation reads as follows:
UK  DEBATE  TEAM  DAY
WHEREAS,  the University of Kentucky Debate Team is ranked top in the nation; and
WHEREAS,  the debate team is led by one of the best partnerships in the country, Dan Bannister and Anthony Trufanov, both juniors; and
WHEREAS, Bannister and Trufanov recently won the 46th annual "Run for the Roses" tournament, a competition featuring the seven top debate teams in the nation; and
WHEREAS,  David Arnett has been directing the UK Debate Team for nine years; and
NOW, THEREFORE I, LINDA GORTON, MAYOR OF LEXINGTON,
DO HEREBY DECLARE APRIL 25, 2019,
UK DEBATE TEAM DAY IN LEXINGTON,
IN CELEBRATION OF THE TEAM'S TOP NATIONAL RANKING.
The success has also garnered letters of congratulations from Washington, D.C., from U.S. Senate Majority Leader Mitch McConnell and U.S. Rep. Andy Barr.
The 2018-2019 school year not only saw the end of UK's 31-game losing streak against Florida in football, it more recently has seen the end of the 33 years since UK's last National Debate Tournament championship.
On March 25, two UK students brought the title back to the university for the first time since 1986. Dan Bannister and Anthony Trufanov are now one of only two UK debate teams to be called NDT champions.
So what is it like being a national champion?
"It's been kind of surreal," Trufanov said.
He originally came to UK specifically for its debate team, having been a successful debater back in high school. Now as a junior political science and Russian studies major in the Lewis Honors College, Trufanov has come a long way and is finally getting to see the fruits of his labor.
The same can be said for Bannister, also a junior political science major, who joined the team on scholarship during his senior year of high school. After procuring the NDT trophy, that scholarship has proven to be well deserved.
Lincoln Garrett, the debate team's head coach, said the two were ranked fifth in regular season last year, raising the expectation for their performance, to which they no doubt exceeded. The pair can credit their success to both their work ethic and their chemistry.
"Debating with Anthony is really fun. We've been partners for all three years of our time on the team, and it's really nice to be debating with someone who, in my mind, is actually better than me at debate. It pushes and challenges me to be my best," Bannister said.
Trufanoy said he and Bannister complement each other well.
"He's a much better speaker than I am and great at thinking on his feet, while I am better at working out game plans and doing research to make them come together," Trufanov said. "We've also become good friends and were roommates this year. He's the best partner anyone could ask for."
Along with their sense of comradery, they also understand the importance of finding a balance in their work, something which Trufanov said can be challenging. Debate tournaments are typically three- to four-day events that require hours of research to form strategic arguments. For the NDT alone, the team had to forfeit spring break just to prepare for the competition.
"Being on a debate team is just like any other college sports organization or activity– there's a division of responsibilities, daily practice and research involved, and a bunch of people working together towards a common goal," Bannister said. "Outside of debate, I'm pretty much like any other student. I go to class, do homework, go to the gym, hang out with friends. Sometimes it's hard to balance debate and having a social life, but you've got to make sacrifices if you want to win."
And winning, as any competitor will say, is always nice, especially when it's earned. After ranking consistently well for years, this team definitely plans on enjoying their victory.
For Bannister, it was about the payoff.
"It feels really fulfilling to win the championship, knowing that all our efforts to this point have finally paid off…" Bannister said. "I'm a super competitive person, I hate losing, and winning it all reflects the culmination of a lot of people's hard work and dedication but also lets me finally relax and go easier on myself with the knowledge that all the time spent practicing and researching wasn't in vain."
And for Trufanov, it was about fulfilling a dream. Winning the NDT had been his goal for as long as he has been debating, he said.
"The goal was especially important to me because debaters from my alma mater had appeared in the final round of the national championship four times out of the past five championships but had lost each time," he said. "I really wanted to break the finals curse, and I'm incredibly happy that this wish came true and that I got what I came for."
But their win was not for themselves alone. The win is also for their team, one filled with "incredibly supportive and wonderful people to spend time with, not just fierce competitors," as Trufanov put it. It's a group that both champions are happy to be a part of. And Garrett feels the same, especially after this year's results.
"This season has involved the team reaching heights of competitive success the UK debate team has not reached since the years 1985 to 1995," Garrett said. "The UK debate team did a great deal of preparation throughout the whole season and leading up to the NDT to put ourselves in a position to make such a run. The amount of endurance and dedication it takes can't be lauded enough."
A legendary figure in the field of debate coaching, Ken Strange not only inspired many students with his hard work and strategic thinking, but also shaped college debate coaching.
"There are probably three or four debate coaches in the history of college debate in the United States who kind of stand in the similar competitive and influential point today," said Dartmouth Forensic Union director John Turner '03. "He was a part of a generation of coaches that really made the activity what it was."
A former director of the Dartmouth Forensic Union for 35 years and founder of the Debate Institute at Dartmouth, Strange passed away on April 4, 2019 at the age of 69, according to his sister Kay Strange. He was interred yesterday at a private family gathering in Oklahoma City. He is survived by his sister and stepdaughter Lindsey Gideon.
"He showed me what hard work was," Gideon said. "He was always there, he was reliable, he was kind [and] humble."
Born and raised in Oklahoma, Strange demonstrated his intelligence at an early age, recalled Kay Strange.
"He was a precocious child, from what others have told me," she said. "He was always a very bright student, he enjoyed school."
Strange participated in debate throughout high school and continued to pursue this activity while he studied political science at Northwestern University. During his years of pursuing an undergraduate and master's degree at Northwestern, he coached debate at local high schools. He taught debate at the University of Iowa before becoming the director of the Dartmouth Forensic Union in 1980.
While coaching debate with DFU, Strange churned out teams of Dartmouth debaters who succeeded at debate tournaments across the country. Under his directorship, DFU won three National Debate Tournament championships, placed second five times and placed third nine times, according to a Facebook post by DFU.
Beyond that, under Strange's leadership, Dartmouth consistently ranked as one of the top college debate teams in the country, according to Turner. He said that Strange had at least one team win an elimination round at the NDT for 30 years.
"That's a competitive streak that is unlikely [to] ever be equaled in college debate," Turner said.
According to Mark Koulogeorge '85, Strange was known for his "unique level of engagement" with the debate team, as he helped students with research and argumentative strategies in addition to simply providing them with instructions. Koulogeorge and his teammate Leonard Gail '85 were the 1984 National Debate Tournament champions with Strange as their coach.
"A lot of the coaches just provided advice, [but] he also helped us do research and worked aggressively with us on particular arguments." Koulogeorge said. "As a result, he really inspired the rest of us to also work hard. He was a coach who was working with us, not just instructing us."
Turner, who also trained with Strange while he was an undergraduate student at Dartmouth, echoed Koulogeorge's sentiment about Strange's strategic coaching style.
"Ken was someone who was very good at taking a set of information and turning it into a coherent strategy." Turner said. "Not just knowing something about the topic, but knowing this is exactly where we want to aim our argument."
Turner recalled that when he joined the team as a first-year without too much debate experience, he felt immediately welcomed because Strange assigned him to do research that later contributed to the work of advanced debaters.
"For him, the team was his family," Koulogeorge said.
In 1986, Strange established the Debate Institutes at Dartmouth, which features premier summer debate workshops that train high school students for different types of debates, according to lifelong friend David Baker. Baker, who worked with him for 16 years, said that Ken started the Institutes because of his passion for bringing quality debate education to more students.
"I think Ken started the Institute because he really wanted to provide a high-quality program for exceptional students," Baker said.
Apart from producing nationally successful policy debaters for more than 30 years, the Debate Institutes also attracts students to apply to Dartmouth. Steven Sklaver '94, who attended two summer debate workshops at the institute before coming to Dartmouth and was a 1993 National Debate Tournament champion alongside Ara Lovitt '94, said he applied to Dartmouth because of his high school debate experience with Strange.
"Ken is my Dartmouth experience," Sklaver said. "He is the reason I went to Dartmouth and the reason I chose my roommate, and I am extremely grateful for it."
After his directorship at Dartmouth ended in 2015, Strange worked as the assistant head coach at the Wake Forest University debate team for two years.
Strange inspired his students in many different aspects that are not limited to simply college debate. Craig Budner '87, a member of the second-place team at the NDT in 1987, said that Strange taught him how to "work, research, and frame arguments in a way that someone else could understand."
"I would say that he was probably the teacher who played the most influential role in my life," Budner said. "He made me who I was, and I think about him every day."
Correction appended (April 18, 2019): The original version of this article misspelled Kay Strange's last name. The article has been updated to reflect this change.
LAWRENCE — The University of Kansas debate squad won the National Sweepstakes Championship as the top program in the country for the 2018-19 season from the Cross Examination Debate Association. The top ranking is based on points accumulated by teams at tournaments throughout the season.
This is the first time KU has won the overall national CEDA points championship. KU also received the Founders Award from the CEDA organization for being the top program in the country in total points over the past 20 years.
"This award is special because it is a reflection of the depth of talent and the hard work of the entire debate squad," said Scott Harris, the David B. Pittaway Director of Debate. "Every member of the team contributed to this award, and this was a remarkable season."
KU debaters competed in 591 debates at 21 tournaments across the country over the course of the season, and 21 different KU debaters advanced to the elimination rounds at a tournament.
Students who represented KU this season include Brenda Alvarez, Topeka; Ethan Bastian, of West Jordan, Utah; Azja Butler, of Leavenworth; Kyndall Delph, of Little Rock, Arkansas; Gabriel Esquivel-Yglesias, of Wichita; Ross Fitzpatrick, of Leawood; Chris Fry, of Overland Park; Carolyn Hassett, of Leawood; Jacob Hegna, of Overland Park; Julia Henry, of Hutchinson; Jackson Hoffman, of Wichita; Ye Joo Lee, of Halstead; Nate Martin, of Lansing; Nick Massa, of Prairie Village; Lindsay McFadyen, of Chicago; Lily Ottinger, of Shawnee; Lexi Rawlings, of Topeka; Nico Rodriguez, of Prairie Village; Jackson Ross, of Overland Park; Ryan Snow, of Highlands Ranch, Colorado; Jacob Thomas, of Shawnee, and Nick Velo, of Emporia.
The season included many highlights:
The KU team of Azja Butler and Kyndall Delph finished as the national runners-up at the Cross Examination Debate Association National Championship Tournament.
The team of Jacob Hegna and Nathan Martin took third place at the National Debate Tournament, and KU extended its streak of qualifying for the National Debate Tournament to 52 consecutive years.
The KU teams of Nick Massa and Chris Fry, Julia Henry and Gabriel Esquivel-Yglesias, and Lily Ottinger and Jackson Hoffmann combined to close out the championship debates and bring home both first- and second-place trophies at two tournaments in Dallas. Massa and Fry also won a tournament in Oklahoma.
Brenda Alvarez and Lexi Rawlings went undefeated, winning back-to-back tournament championships in Dallas.
The team of Carolyn Hassett and Nico Rodriguez and the team of Brenda Alvarez and Ryan Snow both reached the semifinals of the Mid America Championship tournament.
Jacob Thomas and Ryan Snow took third place at the George Pflaum Debate Tournament.
Jacob Hegna and Nate Martin took third place at a tournament at California State University, Fullerton.
The Cross Examination Debate Association recognized Kyndall Delph and Julia Henry as members of the All American Debate team and Jacob Hegna as a National Debate Scholar Summa Cum Laude. Julia Henry and Christopher Fry were recognized as National Scholars as well.
"We want to thank all of the students and coaches for their hard work that made this success possible," said Brett Bricker, associate director of debate.
The KU coaching staff consists of Harris, Bricker and Assistant Coaches Benton Bajorek, Allie Chase, Jyleesa Hampton, Jacob Justice, Sean Kennedy, Talya Slaw and Alaina Walberg. Other individuals who provided coaching assistance to the squad included Ian Beier, Christopher Carey, Will Katz, Kyle Klucas and Lexi Oatman.
Trinity Debate is once again sending members to the National Debate Tournament (NDT).
The first team comprises first-years Samuel Grimsley and Nathan Glancy, and the second team comprises first-year Sam Lair and junior Ian Dill. The teams are led by their coaches, William Mosley-Jensen and Collin Roark. Both are professors of human communication.
"We've already achieved something impressive, which is being in the top 78 in the country," Jensen said. "Over the course of the tournament, they have eight debates, and then they'll basically clear to an elimination round bracket of the top 32. That's a lofty goal. If we got one of those teams to clear to the top 32, that would be amazing."
The debaters themselves have similar goals for the upcoming tournament.
"I think a reasonable goal would just be having a winning record, which would get us to elimination debates," Grimsley said. "Anything after there would just be a bonus for me."
Glancy agreed with Grimsley.
"This upcoming tournament we've been getting to elimination rounds," Glancy said. "If we could just make it to the elimination round. I would say we're freshmen, so we have nowhere to go but up."
In order to qualify for the NDT, the debate team started to prepare the summer before this year. All four debaters attended an annual retreat a week prior to New Student Orientation. According to Jensen, this retreat helped the students refine their research and debate skills.
"I think there are a few things that make it successful," Jensen said. "One is getting everyone in the same room together, working together, cooperating and bouncing ideas off each other. It's a really collaborative process. The other thing too that kinda reinforces the camaraderie is the new students come on campus and already have some friends here. So it's a really good process."
The team had another retreat during winter break. Once again, they returned from break one week early to rehearse speeches and to do research.
"[Jenson] took sabbatical the first semester to help us strategize and map out how different arguments interact with each other," Grimsley said. "[Roark] is familiar with how debate works, and how the judges and debate community will react to and perceive different arguments, which is very helpful."
The qualifying teams will potentially compete against teams from schools that Trinity doesn't usually face in competition such as Harvard University, Northwestern University and the University of Michigan. The debate coaches have adapted their approach to further their progress in the NDT.
"One of the things I think of as a coach is to always try to balance and [figure] out how to encourage students to be responsible for their own work and be self-motivated and how to facilitate their competitive goals without being too intrusive on my own," Jensen said. "Because as a coach, you want to win and you want to help them. But I am making student ownership of the team … one of my major goals at the moment."
The more experienced debaters have also helped the first-years prepare by teaching them new tactics.
"For example, when we're preparing evidence, we highlight it in a certain way to format it properly," Glancy said. "There's a lot of ways you can make all of the research and preparation that goes into debate faster. They showed me the shortcuts."
Jensen hopes that the community shows their support for the competitors.
"The debaters work really hard and we are grateful for the support of the university," Jenson said. "The debate students themselves are really the core and the heart of the program."
Roberto Fernandez and Nae Edwards, two sophomore members of the Wake Forest Debate Team, recently placed third in the 73rd National Debate Tournament, which was held this past weekend from March 21-25 at the University of Minnesota. This is the highest level of placement that any sophomore pair has achieved in the history of the Wake Forest Debate Team. 
What was involved in preparing for the National Debate Tournament?
Roberto Fernandez: The National Debate Tournament (NDT) is the grand finale to a whole year's worth of debates, so we always try to bring our best arguments to the tournament. We spent the entire spring break on campus practicing every day in order to bring the best new arguments to the tournament. The process involves a lot of practice debates, evidence production and predicting what we think our opponents will do at the tournament that they haven't done before.
Nae Edwards: Most of the preparation for the NDT was less about doing the actual work of practice and more about developing arguments and strategizing. Throughout the year, we'd already developed a lot of the stuff we wanted to use, but we wanted to perfect them. Our goal was to make the best versions of our argument that could answer anything our opponents came up with, which sometimes traded off with practicing those strategies. We knew, however, that we could execute them if we knew what the perfect iteration of the argument was.
What were some challenges you faced and how did you overcome them?
RF: It's always difficult being a young team at the NDT — the stakes are much lower for us than they are for other teams. It's less of a factor during the regular season, but it's hard for judges to vote against a team whose career could end as a result of their decision. That said, it's our goal to eliminate any and all ambiguity in a debate so that judges can't use that vagueness to facilitate a decision against us. We spent a lot of time working on our execution going into the NDT so that we could write the judges' ballot for them in our final rebuttals.
NE: I think the biggest challenge was the time. We were trying to use a lot of spring break and the time before then to get everything we wanted to do done. Our prep timeline didn't really shake out like we wanted it to, but everything came together towards the end of our time before the tournament.
Did you have a favorite debate during the tournament?
RF: My favorite debate by far had to be our quarterfinals debate against Emory. We'd beaten this team a couple of times during the regular season, but the NDT committee ranked them above us going into the tournament, and Nae and I felt snubbed by that. We beat this team, in the third round of the tournament as well, so I felt that winning this debate would prove something. We also executed our strategy perfectly and left Emory in an unwinnable position, so I was really happy with our performance.
NE: Our octofinals debate against Binghampton. They're very good friends of ours and seniors, so it was their last debate at the NDT. It was a very serious debate because of that, and I really appreciated how engaging and intellectually challenging the debate was.
How do you feel after placing third in the NDT and making Wake Forest Debate Team history?
RF: To be honest, I felt incredibly unsatisfied. I'm very grateful to my coaches, team and Nae for putting in all the work that helped us go so far, but losing by one ballot of five in semifinals hurts a lot. However, I'm still very glad that Nae and I were able to make Wake Forest Debate history two years in a row, and I'm really excited for next year.
NE: It was bittersweet. We really felt confident that we could win the whole thing this year, so we set winning it all as our goal. As the tournament progressed, we only become more confident about our ability to win it all. Given that, it was very nice that we got to semifinals, but upsetting that we couldn't win it all like we wanted.
Based on your experience, have you formed any new goals for debate?
RF: The goal has always been to win the NDT and be the best team in history. Even after this year, that goal is still a possibility, and I plan on moving forward with that in mind.
NE: No. My goal is still to be the best and win as many debates as possible. We're just going to do that.
Looking back, how do you view your progress? What piece of advice would you have given to your freshman selves about debate?
RF: I think we've progressed immensely since our freshman year, which is a relief because we set the bar so high last year. If I had to tell my freshman self anything, it would be that I shouldn't be scared to take a deep breath when I need to. Debate is incredibly stressful, and this year I've learned from my wonderful mentors that my success means nothing if it means losing myself in the process.
NE: I would tell myself to be as confident as possible and make sure you have a reason to be confident. Continue to work hard and work off that confidence. When you aren't intimidated by anyone, you can win any debate.
University of Mary Washington dynamic duo Parker Coon and Gabriel Lewis, both seniors, used their debate team super powers to outperform top contenders – including Harvard – last weekend.
As first-year students, Coon, who hails from Bakersfield, California, and Lewis, a Salt Lake City native, traveled across the United States to join the award-winning, nationally ranked UMW Debate Team. In the final policy debate tournament of their UMW careers, the pair landed double-octa finalist spots, besting the Harvard team ranked second coming into the competition. The Mary Washington win was one of the biggest upsets of the 73rd National Debate Tournament (NDT), which took place March 21 to 25 in Minnesota.
Coon, who will graduate this May with a degree in economics, and Lewis, who studied political science, won five of eight preliminary rounds, losing only to the universities of Georgia; California, Berkeley; and Nevada, Las Vegas, all top 16-ranked teams going into the tournament. After advancing to the elimination rounds as the 25th seed, Coon and Lewis lost to another top-16 team, the University of Oklahoma.
"It has been a pleasure coaching Parker and Gabe," said UMW Director of Debate Adrienne Brovero, newly appointed chair of the NDT Committee. "To have their careers culminate in fierce competition with top-notch opponents is rewarding, and an indication that even small schools can compete among the elite programs in intercollegiate debate."
Brovero received the Lucy M. Keele Award for outstanding service to the debate community during the tournament's opening ceremony. Along with Assistant Debate Coach Judd Kimball and alumni coaches Terrell Taylor '11 and Thomas Linder-Pacheco '14, she worked closely with Coon and Lewis throughout their four years at UMW. The pair reached the elimination rounds at each of eight tournaments in which they competed this season, finishing first at the UMW Debate Tournament and the NDT District VII Qualifier.
Brovero, who has coached the University's nationally ranked intercollegiate policy debate team since arriving at Mary Washington in 2006, led them to top finishes in the American Debate Association National Championship in 2009 and 2014. She received the association's Founders' Award for Service in Intercollegiate Debate last year and the NDT's Ross K. Smith National Coach of the Year Award in 2011.
The UMW Debate Team has two remaining public debate competitions, both in April – the Madison Cup at JMU and the Lafayette Debates at GW.
Follow the UMW Debate Team on Twitter @UMWDebate.
After winning the American Debate Association tournament earlier in March, Georgia Debate Union members Nathan Rice and Johnnie Stupek recently finished second at the 2019 National Debate Tournament (NDT), held at the University of Minnesota.
Rice and Stupek are the second team in the history of the Georgia Debate Union to make it to the final round of the National Debate Tournament and the first since 1997. In their run to the finals, they defeated teams from the University of Nevada-Las Vegas, the University of Michigan, Harvard University, and Wake Forest University. They lost a close, split decision to the University of Kentucky in a debate over whether presidential power to use nuclear weapons should be restricted.
In addition to Rice and Stupek's run to the finals, other members of the Georgia Debate Union enjoyed tremendous success at this year's NDT.  Advait Ramanan and Swapnil Agrawal, winners of the ADA national championship tournament, finished in 5th place at the NDT. They defeated teams from Dartmouth College, UC-Berkeley, Georgetown, and Michigan State along the way.
UGA was also the only institution to have three teams debating in the elimination rounds of the NDT; junior Alyssa Hoover and sophomore Tripp Haskins lost on a split decision in their elimination round, finishing in 17th place. The 2019 NDT is the first time the Georgia Debate Union has advanced 3 teams to the elimination rounds.
Ramanan, Agrawal, Rice, and Stupek were also all recognized as top 20 speakers at the NDT, making UGA the only institution honored with such distinction.
A large traveling trophy will be shipped to Athens next week. Congratulations to the four seniors on these outstanding achievements and experiences that will last a lifetime, which have set the bar even higher for all the Georgia Debate Union teams to come.
For UK fans who are nervously awaiting the next round of the NCAA basketball championships, no need to worry. UK already has a national championship in the bag.
On Monday, the UK debate team of Dan Bannister and Anthony Trufanov were named the 2019 National Debate Tournament champions. Although UK is consistently in the top national rankings for debate, the team hasn't won the actual championship since a UK student named Ouita Michel brought home the trophy with teammate David Brownell in 1986.
"I'm so excited, so proud of them," said Michel, who's better known today as the owner of a local restaurant empire that includes Holly Hill Inn, Honeywood and Windy Corner Market. She and her former coach and business partner, Roger Solt, followed the online results with bated breath Monday night. "People have no idea. UK is the most successful public university debate team in the country."
In a statement, Coach Dave Arnett said UK defeated teams from Cornell, Berkeley, and University of Michigan on their way to first place, and UK won 44 out of a possible 46 ballots over four days, which he called one of the all-time greatest performances in the 73-year history of the tournament. UK was
ranked number one
in the nation after competitions this fall, with a 4-1 record against Harvard.
"In an activity dominated by private institutions and Ivy league schools I think it sends an incredibly egalitarian message that UK can stand with the best of them," Arnett said. "I just can't be prouder of my students who believed in themselves and the team and made the impossible possible."
Bannister and Trufanov were not immediately available for comment. They debated executive privilege and arms control, Barnett said.
Michel said UK's debate team has long been overshadowed by sports, but the year she won, her mother, Pam Sexton and then-Mayor Pam Miller convinced UK President Otis Singletary (known for his love of UK athletics) to meet their plane at the airport.
"It was so awesome," she said.
Michel and Solt donate the team's year-end banquet, hosting the team at Holly Hill Inn.
The team of senior Jacob Hegna, Overland Park, and sophomore Nate Martin, Lansing, advanced to the Final Four at the 73rd National Debate Tournament held March 21-25 at the University of Minnesota. It marks the 17th time KU Debate has placed a team in the Final Four since the NDT began in 1947. In addition, Hegna was the first-place individual speaker at the tournament. He was the first KU student to be the top speaker at the NDT since Huber Bell in 1955.
Hegna and Martin's run in the tournament ended in the semifinals with a loss to top-ranked University of Kentucky, who went on to win the national championship. Hegna and Martin had entered the tournament as the 12th-ranked team in the country. In the Elite 8 they defeated the third-ranked team from the University of Georgia. In the Sweet 16, they defeated a team from the University of Oklahoma and in the first elimination round beat a team from Baylor University. They advanced to the elimination rounds by winning six preliminary round debates over Rutgers University, the University of Minnesota, Emory University, Trinity University, the University of Oklahoma and Harvard University.
KU qualified three teams for the 78-team field, the 52nd consecutive year KU has qualified teams for the NDT. The team of freshman Azja Butler, Leavenworth, and junior Kyndall Delph, Little Rock, Arkansas, also advanced to the elimination rounds at the tournament by winning five preliminary debates over Gonzaga University, Northwestern University, Liberty University and two different teams from Michigan State University. In the first elimination round, they lost a split decision to a team from Wake Forest that went on to the Final Four.
The third team of senior Chris Fry, Overland Park, and sophomore Nick Massa, Prairie Village, came within one ballot of reaching the elimination rounds when they lost a 2-1 split decision against Baylor in the final preliminary round. They ended up with a 4-4 record and finished in 35th place at the tournament.
This was the third time in the past four years that KU advanced a team to the Final Four at the National Debate Tournament. In 2018, KU won the national championship and was national runner-up in 2016.
"We are very proud of the incredible performance of the debaters and the hard work of the assistant coaches and alumni who helped make this success possible," Head Debate Coach Brett Bricker said.
The Georgia Debate Union won the American Debate Association national championship tournament this past weekend in Athens. Nearly 100 teams from around the country attended the American Debate Association's end of the year championship tournament, hosted at the University of Georgia.
Seniors Advait Ramanan and Swapnil Agrawal won the American Debate Association's varsity division national championship and finished the tournament undefeated, with wins over the University of Kentucky, the University of Minnesota, Northwestern University and Indiana University. Advait Ramanan was also recognized as the top overall speaker in the varsity division.
Ramanan and Agrawal are the first team in the history of the Georgia Debate Union to win a national championship in intercollegiate debate.
Their teammates, seniors Nathan Rice and Johnnie Stupek, also had a tremendously successful ADA Nationals, finishing in third place with wins over Northwestern University, the United States Naval Academy, Indiana University, and the University of Kentucky.
All 4 UGA students finished in the top 5 speakers in the varsity division.
"Ramanan and Agrawal are amongst the best debate teams in the long history of the Georgia Debate Union, and I am delighted that they will be able to graduate as champions of the American Debate Association," said Edward Panetta, head of the department of communications studies in the Franklin College of Arts and Sciences. "Not many programs ever attain this level of success at a national championship tournament. Hays Watson and our coaches should be commended for their work with these teams and all the debate teams that represented UGA over the course of the six month competitive season."
In addition to winning the ADA National Tournament, the Georgia Debate Union won the season-long award for best Varsity Debate Program in the American Debate Association, another first for the debate program at UGA.
"I am extremely proud of the accomplishment of Advait and Swapnil as well as their teammates Nathan and Johnnie. I have been blessed with the opportunity to work with hard working, intelligent, and talented students at UGA these past few years," said head coach Hays Watson. "The team is excited that we were able to bring a national championship to Athens."
The Georgia Debate Union will seek to secure a second national championship tournament victory at the National Debate Tournament, which will be held at the University of Minnesota March 21-25.
In an age of predawn rage tweets by President Donald Trump and public cries from his opponents like "Impeach that (expletive)," a special debate last week at UNLV offered hope that civil discourse can return to American politics.
The contest pitted two members of UNLV's powerhouse debate team against a pair of visitors from the Brookings Institution, who discussed whether the U.S. should adopt a single-payer health insurance system.
It was an invigorating evening. Not only did the event provide a well-deserved spotlight for the collegiate team, but it provided audience members a comprehensive look at an important topic.
And while the debate was a competition, who won and who lost wasn't as important as the overall message of the event — that divisive issues like health care coverage can be argued aggressively but in a respectful manner.
"If you go back to the original arguments of free speech, the emphasis is not on the speaker, it's on the listener," said Richard Reeves, one of the Brookings visitors. "It's about the capacity to learn from hearing different points of view.
"To successfully debate somebody, you have to really listen. And I think we have a listening problem. We just dismiss someone out of hand, especially if it makes me feel uncomfortable. I just ignore it."
During an interview two days before the debate, Reeves was clearly energized about taking part in it. Twice, he paused to jot down notes that he intended to present as part of his argument.
Reeves is a passionate supporter of high school and college debate, saying he sees it as a key to breaking down the tribalism in American society over politics. As a biographer of John Stuart Mill, Reeves has examined the history of free speech through the prism of Mill's chapter about the subject in his influential 19th century work, "On Liberty."
"Mill has this great line. One of the reasons he's in favor of free speech, he says, is that when two people are disagreeing with each other, it's very rare that one of them has all of the truth and the other has none of the truth," Reeves said. "Usually, we share the truth between us. And that's the point of debate: We bring the facts together, and hopefully we get a wee bit closer to the truth."
A central problem with political discourse in the U.S., Reeves said, is that people have made their positions on issues part of their identity.
"That means that if you attack someone's idea, you're attacking them as a person," he said. "So the confusion of ideas and identity is a growing problem, and it's a problem on college campuses where this very idea of 'I can strongly disagree with you' — on whatever it is — amounts to an attack on you."
Debate creates separation between identity and ideas by requiring speakers to argue points they don't necessarily believe personally. In doing so, Reeves said, it creates an opportunity for speakers to consider other views and perhaps either adopt them or move toward them. A better rounded view of a topic is often the result.
To the credit of UNLV and its debate coach, Jake Thompson, few places are excelling in the field more than our Southern Nevada university.
After the debate program was revived at UNLV in 2007, the team rose to the top 10 in the nation five years later and has remained strong ever since. UNLV advanced to the quarterfinals of the National Debate Tournament last year, its best finish ever, and two team members finished in the top 20 individually.
One of those competitors, Jeffrey Horn, was part of the team that took on Reeves and his partner, John Hudak, in last week's event. Horn, a senior, was joined by junior Ember Smith.
For Horn and Smith, the event was an opportunity to test their skills against a couple of masterful opponents.
Reeves' resume includes a degree from Oxford, service as a special adviser to the deputy prime minister of Britain and a spot on Politico's 2017 list of the top 50 thinkers in America. Hudak is an international expert in marijuana policy who holds master's and doctoral degrees in political science from Vanderbilt.
For those looking for information on the health care issue, and for those who'd like a break from the divisive rhetoric of today's politics, it's worth seeing the video of the event available at unlv.edu/brookingsmtnwest.
In one of the best aspects of the evening, there were several high school debaters in the audience. UNLV has fostered growth of high school debate in the area through tournaments, camps and other means, and a number students turned out to watch.
Here's to Brookings Mountain West for putting on the event, and here's hoping many more like it will be staged. Our democracy needs them.
Oh, and by the way: Even though the discussion itself was the star of the show, the UNLV team won. Did we mention that the Rebels are performing at an elite level?
In a special event on campus Thursday, two of the university's exceptional debaters will take on a pair of visiting scholars from the Brookings Institution over whether the U.S. should establish a single-payer health care system.
Vying for UNLV will be senior Jeffrey Horn and junior Ember Smith, while Brookings' representatives will be John Hudak and Richard Reeves.
Horn and Smith have played key roles in elevating UNLV's debate team to elite status nationally. As a junior last year, Horn teamed with Matthew Gomez to advance to the quarterfinals of the annual National Debate Tournament — UNLV's best finish in school history. Horn finished ranked No. 15 in the nation as he and his teammates defeated such perennial powers as Harvard, Northwestern and UCLA.
As for Brookings' representatives, their resumes are too extensive to list here, but suffice it to say they're among the nation's leading minds — authors of influential books, internationally recognized experts in their fields, etc.
It will be a major test for UNLV's debaters, but also a showplace for the community to see the team's extraordinary talent on display.
It's also a chance for local residents to get a 360-degree examination of the pros and cons of adopting a single-payer health care system.
The debate is scheduled for 5:30 p.m. to 7:30 p.m. at Greenspun Hall.
Seating is available to the public, but space is limited. To RSVP, email brookingsmtnwest@unlv.edu.
For those who'd like to watch the event but can't attend in person, a livestream is available on the Brookings Mountain West website — unlv.edu/brookingsmtnwest. More information is available on the site or by calling 702-895-0088.
An IU team won the Crowe-Warken Debate Tournament Jan. 19-21 at the U.S. Naval Academy in Annapolis, Maryland, for the first time.
Five IU teams attended the tournament this year, and over 50 teams competed overall. IU's winning duo was senior Harry Aaronson, team president, and junior Cameron Dehmlow Dunne.
Aaronson and Dunne's team was ranked 15th in the country before the debate, debate team coach Brian DeLong said.
This year's debate topic centered around restricting the power of the president and executive authority. Aaronson said students debated about President Donald Trump and presidential power in general, addressing concerns like nuclear weapons or foreign relations.
The debate began with eight preliminary rounds, followed by an elimination round, which was judged by graduate students, professors and debate coaches.
"There was an excellent quality of competition from the other contestants," Aaronson said. "We competed against several Big Ten rivals and other major national competitors. It was very satisfying and exciting to come out on top."
The tournament started Saturday and ended Monday. Aaronson said the winners were not announced until 12:30 a.m. Tuesday.
The Crowe-Warken competition has been around since 1965 and brings in almost 200 students from around the country, DeLong said.
The IU Debate Team was established in 2010 and now includes about 20 students. For the Crowe-Warken Debate Tournament, pairs of two competed from the IU team. IU attended the Crowe-Warken Debate Tournament three times in the past eight years but never placed first until this year.
IU's debate season begins in September, but Aaronson said preparation for the Crowe-Warken tournament began before the school year started.
Aaronson said the debate team arrives on campus a week before classes start and continues to meet weekly and research individually throughout the school year.
DeLong said he helps students solidify their stances for the debate and does any last minute research students need while they're at the competition. He said the team puts in 30 to 40 hours of work a week.
DeLong said he is proud of the Aaronson and Dunne's positivity.
"The duo arrived in Annapolis knowing they should be in the championship round of the Naval Academy," DeLong said. "This team has shown that Indiana University has Hoosier students with the intellectual strength and drive to compete against any university in the nation."
Strong, individual performances in the fall and early this year by the newest members of the UT Dallas debate team have the group excited about its prospects for upcoming tournaments.
In a recent regional tournament in Oklahoma, a UT Dallas debater placed first for his individual performance, another placed in the top 10, and a UT Dallas pair finished in the top 25 percent. And in a tournament this month on campus, team members reached the semifinals.
"There were a lot of great things about our recent tournament," said Scott Herndon, director of debate.
Ten of the 16 members of the debate team are freshmen and sophomores. Herndon said he views that as an advantage in upcoming tournaments.
"I believe this is the strongest group of freshmen and sophomores we've had in years. Their steady results bode well for us sending two teams to the National Debate Tournament in April," he said.
The 2019 National Debate Tournament, hosted by the University of Minnesota, is one of the most important debate events of the year for collegiate teams.
Evan Gilbert, a junior finance major, won the top individual speaker prize at the University of Central Oklahoma tournament. He said judges look for clarity and the ability of the speaker to explain main points.
"Between speeches, there's a point where you're questioning your opponents and they question you," Gilbert said. "A speaker's performance during those particular three minutes weighs heavily into the individual speaking score."
Spring Schedule
Jan. 19-21: Crowe Warken Debate Tournament (United States Naval Academy)
Feb. 1-4: Owen L. Coon Memorial Debates (Northwestern University)
Feb. 23-25: District III National Debate Tournament Qualifier
March 8-10: American Debate Association National Tournament (University of Georgia)
March 29-April 2: National Debate Tournament (University of Minnesota)
April 3-7: Cross Examination Debate Association National Tournament (California State University, Long Beach)
Herndon said Gilbert differentiates himself by speaking well and providing solid content.
"He's able to take complicated arguments and explain them in a way that's compelling. It's not just about sounding good," he said.
Gilbert said the key to debate team success is preparation. Herndon agreed, saying that teams have to prevent opponents from being comfortable with their game plans.
"Teams stylistically handle their arguments and speeches in certain ways — ways in which they are comfortable," he said. "Using a sports analogy, teams run offenses that they're comfortable with. It's similar in debate with different teams attacking you in various ways. Sometimes knowing how to prevent that brings tournament success."
Gilbert's debate partner, Devin Brown, also received a good individual speaker rank at the regional tournament, finishing 10th.
Herndon said that while the UT Dallas debate program is well-respected and well-known in the world of collegiate debate, it has even higher aspirations.
"We compete with universities such as Northwestern, Texas, Dartmouth, Harvard, Michigan and Kansas. They don't want to debate us," Herndon said. "There are not a lot of other programs where you can say UT Dallas beat Harvard."
He said one reason for the debate team's success is its strong support from the University, which brings in excellent students.
"We have smart kids learning to be civil and engaged, which is so important at any university. It creates a good debate environment and one that fosters success," he said.
The Georgia Debate Union finished the fall semester ranked as the top ranked varsity debate team in the country according to both the American Debate Association and National Debate Tournament varsity rankings. The team is ranked third in the Cross Examination Debate Association Rankings.
The rankings are based on a points-based system whereby individual two-person teams from a university or college accumulate points based off of their wins/losses over the course of a tournament weekend. Georgia Debate Union teams finished in the top three at every major tournament it attended in the fall, including those at Georgia State University, the University of Kentucky, Gonzaga University, and Wake Forest University.
And for the second year in a row, the two-person team of Advait Ramanan and [Schwarzman Scholar] Swapnil Agrawal was invited to compete at the prestigious Dartmouth Round Robin at Dartmouth College.  The Dartmouth Round Robin is an invitation-only competition featuring the top 7 two-person debate teams in the country.  The other invitees for 2019 include teams from Harvard University, the University of California-Berkeley, Emory University, the University of Kentucky, Dartmouth College, and the University of Oklahoma.  The Round Robin will take place January 18 to January 21.
In the spring semester, teams representing the Georgia Debate Union will be attending tournaments at Georgetown University, Indiana University, the US Naval Academy, Northwestern University, and Emory University.
The Georgia Debate Union will host the American Debate Association national championship tournament March 8-10, 2019 in Athens.  Teams will also attend the National Debate Tournament, college debate's NCAA basketball tournament equivalent, at the University of Minnesota in late March. Two teams compromised of four UGA seniors – Advait Ramanan and Swapnil Agrawal and their teammates Nathan Rice and Johnnie Stupek – have solid chances to win one or both tournaments this spring.
"It is the team's ultimate goal that UGA win a national debate championship in 2019," said head coach Hays Watson. "We are hopeful about our chances in the spring and we continue to be grateful for the support that UGA Student Affairs, Franklin College, the President's Office, and the UGA Foundation provide the team, support that enables our talented undergraduates to compete against the very best college debaters in the country."
Best of luck to the team this as they continue to take UGA to new heights in competitive debate.
When the University of Miami Debate Team arrived at the Atlantic Coast Conference (ACC) Debate Championship Tournament last March, they were perceived as the bridesmaid who would never be a bride.
"Historically, we were always number two,'' said Artem Sviridov, a senior in the College of Engineering.
But by the end of the tournament, Sviridov, along with Zachary Homeijer, a feisty sophomore who studies political science and economics, clinched the title of ACC champion against Clemson, propelling the team to the top and bringing the treasured trophy to Coral Gables.
Debating in the civic style, Sviridov and Homeijer argued compellingly for the use of "death panels" (composed of doctors, ethicists, and legal experts) to determine whether a terminally ill patient can continue to get medical treatment. Then, as is customary in that style of debate, they argued against the use of such panels.
For Sviridov, that part of the exercise touched a personal cord. He lost his father to cancer when he was 10 years old. "It was very much an emotional thing for me," he said.
On Nov. 28, Sviridov and Homeijer stood with their debate team as they took center court at the Watsco Center during the UM-Rutgers men's basketball game to be honored for their achievements and the ACC title.
Hard work and constant preparation are a staple for this 30-member team that meets once a week for a two-hour class at the School of Communication, where they strategize, practice, and learn from their coach David Steinberg, who has been at this for the past 29 years, and Patrick Waldinger, assistant director of debate and lecturer.
"They are phenomenal," said Steinberg, School of Communication professor of professional practice, talking about the team. "I would put us up against any team in the country. In the last several years we have averaged more than 40 people competing in intercollegiate competition every year."
Besides doing their UM classwork, most team members devote more than 10 hours a week to prepare for tournaments at other colleges and universities throughout the year. Some members of UM Debate travel to 10 to 15 tournaments a year.
"Time management is something we definitely learn," said Julia Lynch, a junior and top debater who manages to keep a 4.0 GPA studying finance and business law, while fully participating in debate. "But I find that I work best when I have several things to do and debate takes me away from just studying finances."
Although winning competitions is a constant goal for the team, Steinberg said that it is secondary to the primary goal.
"Competition is simply a means to an end," he said. "Debate is a co-curricular activity measured by the amount of participation and the educational benefit to come out of it."
For debaters those benefits are many. Participants hone skills such as public speaking, critical thinking, research skills, listening, language, and writing skills. All this can help them in whatever chosen career they pursue.
"In high school I had to give a presentation in English class and I was actually shaking," said Sviridov. "So when I came to UM I decided that the easier way to learn how to present was to force it on myself."
Debating in various styles—civic, policy, and Parliamentary— also exposes the students to different ways to prepare their arguments and thus expands their acumen, said Steinberg.
Senior Kyle Kingma has participated in the Parliamentary Debate many times during his four years at UM and is used to getting the topic he has to debate a mere 15 minutes before the debate.
"You have to be able to think quickly on your feet and build upon your opponent's arguments," he said. Keeping up with current events and doing extensive research is essential for all debaters. They consult newspapers and magazines but also academic journals and periodicals. They use Google Scholar and Lexus Nexus, as well.
Lynch, who with then-UM senior Leandra Lopez won the prestigious Lafayette Debates in April, spent months researching French history, particularly the student riots of May 1968, a very violent time in that country, which was the topic to be debated.
During the competition, sponsored by George Washington University and the French Embassy, Lynch and Lopez defended and then debunked the notion of whether violence was justified by police in dealing with the French students.
Ironically, they won against a French School, the Ecole de Guerre. The top prize included a one-week trip to Paris, which they took during the summer. "It was my very first time in Europe," said Lynch. "It was the most incredible experience of my life."
Steinberg said that another advantage UM students have is being exposed to public debates. UM has hosted the Rwandan and the Irish Debate Teams in public debates where the general audience includes people from the community and other students.
"So the debaters are adapting complex material for a simple and clear presentation," said Steinberg. "A public debate is about people learning and enjoying the exchange of ideas."
Not everyone is into football — or sports. But when the cadets of West Point's U.S. Military Academy meet the midshipmen of Annapolis' U.S. Naval Academy in Philadelphia, they aren't always playing football.
In a room just off the main hallway from where the press is set up to interview celebrities and military VIPs visiting the big game, a debate rages on: Should the United States implement a policy of nuclear non-first use?
The West Point team calmly lays out exact information from reputable sources to support its argument.
"Unclear policy leads to unnecessary risk," says Cadet Carter McKaughan "the US government should implement a policy against nuclear first use."
Debate teams from the two service academies are meeting each other head-on to argue the finer points of this question. Of course, in the spirit of the debate, the views expressed don't necessarily represent the views of the speakers, the school, or the Department of Defense.
Just like the rhetoric for the football game, the rhetoric in the debate competition is heated, but respectful. The Annapolis team argues that West Point's nuclear non-first use policy proposal will only lead to an increased need for conventional forces and that a nuclear option will be more efficient.
"What has been sustainable for 73 years will continue to be sustainable," Midshipman William Lewis argues. "Such a policy is not justified today… First-use is 73-0 in preventing great power conflict."
The debate has three parts. Each team gets two six-minute speeches to lay out their most pertinent points. The opposition gets two minutes of cross-examination questions. Back and forth, back and forth, for just under an hour.
"Russia doesn't want to face economic ruin to get Estonia," says Cadet Tommy Hall. "First-use nuclear policy doesn't deter them. Mutually-assured destruction keeps countries like China and the United States from a nuclear exchange, not policy."
Each side gets a five-minute rebuttal, and even the audience gets a chance to ask questions. Midshipman Nicholas Gutierrez cracks his knuckles before he begins his six-minute speech. He talks about how the nuclear deterrent and first-strike policy actually prevents armed conflict.
"A first-use policy not only works, it's the best thing we've had in place to save lives in all of human history," he says.
Admittedly, it didn't look good for Navy for much of the debate. The Army team was well-spoken and calmly laid out their salient points. In the closing minutes of the debate, Navy came out with a five-minute rebuttal that was passionate and rebuked all of Army's points.
Like a last-minute drive down the field in the fourth quarter, Navy made its stand. Both teams were impressive in their rhetoric and passion on the subject, but Navy won the day.
The Army-Navy Debate will likely never have the sponsorships and merchandising of the Army-Navy Game. We may never see debate swag or a pair of seasoned debaters providing color commentary. But if you ever want to see the quality of education the future leaders of the U.S. military are getting at West Point an Annapolis, it's worth a trip to the room just off the main hallway.
You just might learn something.
An alumni couple's $1.5 million gift to Michigan State University's debate team – the team's largest gift ever received – ensures the nationally competitive program will enjoy ongoing scholarship and funding support for years to come.
The majority of funds from the new endowment will be used to support student scholarships for members of the debate team.
"This gift is a game-changer for the debate team, allowing us to expand our opportunities to innumerable future students," said Casey Harrigan, director of the debate program. "Equally important is the legacy piece, ensuring that MSU Debate remains a permanent and significant institution at MSU forever, locking in all of the efforts and hard work of our alumni and staff over decades."
A demanding activity requiring long hours of research, argument development and tournament travel, MSU has fielded debate teams off and on since the 1920s. An MSU debate team has qualified for the National Debate Tournament for the past 22 consecutive years and teams earned national championships in 2004, 2006 and 2010 – making MSU's debate program one of the nation's most elite.
"Developing critical thinkers could be higher education's most vital mission, and few activities forge such skills as sharply as does competitive debate," MSU Interim President John Engler said. "The Spartan debate team for many years has been a bright point of pride and we are grateful for the generosity of these donors, whose gift ensures our students will continue to enjoy such opportunities to excel."
The donors wish to remain anonymous, but one competed in high school debate and in MSU Debate for a year. Her husband was not a debater, but has a strong liberal arts background. Both view debate as something that benefits participants long after graduation, no matter what their major or career path.
"The benefits of being on the debate team extended into my professional life in the banking industry," the alumna said. "The ability to present ideas clearly and persuade others all stems from my debate experience."
Along with the competitive team schedule, the debate program sponsors a high school tournament every December, the Spartan Classic Debate Tournament and a high school summer camp, the Spartan Debate Institute.
"We are grateful the donors wanted to invest in the lives of students for generations to come," said Cynthia Jackson-Elmoore, dean of the Honors College. "This gift is a testament to the importance of high-impact educational experiences, many of which happen outside the classroom. The analytical and persuasion skills that debaters develop and hone serve them well beyond their time on the team."
The gift supports Empower Extraordinary, MSU's capital campaign that continues through Dec. 31 and has raised more than $1.75 billion in support, including the addition of 3,500 student scholarships.
WEST LAFAYETTE, Ind. —  Indiana University is the winner of the Purdue vs. IU debate "What IF you could disappear from the Internet" that took place Wednesday (Nov. 7).
The winner was decided by voting from the inhouse audience as well as viewers who watched the event via a livestream.
Two members of Purdue's speech and debate team, the C. Richard Petticrew Forum, and two members of Indiana University's debate team debated over whether the U.S. federal government should make "the right to be forgotten" from internet searches a civil right. The students covered implications for privacy, criminal activity, careers, censorship and cyberbullying.
Purdue students argued the affirmative, while IU students will argued the negative. The Purdue University and Indiana University debate students are led by James Mollison and Brian DeLong, respectively.
The debate is a part of Purdue's celebration of its 150th year and specifically of the anniversary's Ideas Festival, the centerpiece of Purdue's Giant Leaps Sesquicentennial Campaign. The Ideas Festival will feature a series of events that connect world-renowned speakers and Purdue expertise in a conversation on the most critical problems facing the world. Al, Algorithms and Automation: Balancing Humanity and Technology is one of the Ideas Festival themes.
The football team isn't the only University of Georgia squad chasing a national championship.
Count the UGA Debate Union in that group. They're now ranked No. 1 by the country's three top debate organizations — the American Debate Association, the Cross-Examination Debate Association and the National Debate Tournament.
In practice last week in Phi Kappa Hall on UGA's North Campus, they were preparing to go to Gonzaga University, their longest road trip of the year, where they would face top teams also in the hunt this year for a national championship.
In this kind of competition, UGA and other schools often send multiple two-person teams to compete in tournaments. Two of Georgia's teams are in the top five in the country — Swapnil Agrawal and Advait Ramanan, and Nathan Rice and Johnnie Stupek, who placed third and fifth at Gonzaga, respectively.
Another UGA team, Alyssa Hoover and Tripp Haskins, is knocking on the door of the rankings list.
A University of Kentucky team ranks first in the country, even though Rice and Stupek defeated them in a head-to-head match in a tournament this year. A Harvard twosome and a University of California-Berkeley team are also in the top five.
"I've got a really talented group of students," said head coach Hays Watson, a former UGA debater who returned to the university in 2012 as a professor in the Department of Communication Studies and as debate coach.
It takes more than intelligence to excel, Rice said. Like a team sport, you've got to put the work in.
"We spend hundreds and hundreds of hours preparing," he said.
For many on the team, it's almost a full-time job; the best debaters know their subject inside and out, and that takes a lot of research.
They've also got a burning desire to figuratively kick your butt, especially if you happen to be rival Emory University.
This year's debate topic asks if federal executive power should be limited. Last year's topic wondered if the United States government should provide national health insurance.
Debaters have to know both sides of a proposition, the pros and the cons, and be prepared to advocate either for or against it. By the end of the year a debater may have been through 80 to 100 rounds of debate, each lasting around an hour and 45 minutes.
Not all debaters go on to be lawyers, but many do. Agrawal will be going to classes next year at the Harvard School of Law, for example.
At last week's practice, Watson gave the students a weather report, and told them pack light; no checked baggage. The budget for the entire trip was $7,000, which was not enough to cover checked baggage.
The union gets more support from UGA and donations than many schools, including money for travel. Four of the team's top six debaters have debate scholarships, and one is a Foundation Fellow, UGA's top scholarship.
He counts himself "very lucky" to be at a university that provides as much support as UGA does in the form of scholarships and travel funds, but UGA's debate budget pales in comparison to some of the top private universities, Watson said.
UGA has had a debate team for decades, but the program withered for several years before it was revived by Edward Panetta, now the head of Watson's department. Panetta was National Debate Coach of the Year in 2007, when one UGA team, Brent Culpepper and Kevin Rabinowitz, won the national Rex Copeland Award for the team that has the best pre-tournament record in the country.
The teams will stage a public debate on Nov. 29 at 7 p.m. in UGA's Russell Research Libraries building. It will be an intrasquad competition in which two UGA teams will go up against each other.
Two weeks later, the UGA team will be off to Minneapolis to participate in the National Debate Tournament.
As of this week, UGA is ranked first in all three college debate organizational rankings – the American Debate Association, the Cross-Examination Debate Association, and the National Debate tournament – ahead of Harvard, Wake Forest, Emory, Michigan, Northwestern, among hundreds of other institutions.
UGA's top six debaters [pictured] each earned awards at their most recent tournament at the University of Kentucky. Five members hail from the state of Georgia, four of whom are recipients of the Richard B. Russell Debate Scholarship; one is a Foundation Fellow.
The Director of Debate at the United States Naval Academy, Danielle O'Gorman, who is also the President of the American Debate Association, offered the following on the Georgia Debate Union's successful start to the year: "I am so delighted by the success of the entire UGA squad–they have always focused on process over product, on long-term development over quick wins, and on teamwork over individual goals. Their debaters are hard-working, kind, and community-focused; it's a pleasure to debate against them and to judge them. They truly epitomize the values of the American Debate Association and I wish them continued success through the rest of the season."
Congratulations to these extraordinary students who distinguish UGA among the nation's best. The successful beginning of the year puts them on track for their goal of winning a national championship. We wish them the best in their diligent preparations and tough competitions ahead. Strong faculty mentors and coaching in the department of communication studies has a established a continuity of excellence in our debate team and we continue to marvel at their accomplishments.
University of Mary Washington's varsity debate team of Gabe Lewis '19, left, and Parker Coon '19 competed in the 72nd National Debate Tournament, held in March at Wichita State University in Kansas.
The national tournament featured 78 qualifying teams. It was the third time Coon had qualified and the second time for Lewis. While they didn't reach the elimination rounds, they competed strongly, said Debate Coach Adrienne Brovero.
To qualify for the National Debate Tournament, Coon and Lewis turned in an impressive performance at the District VII National Debate Tournament, hosted on the Fredericksburg campus.
Coon and Lewis also reached the Sweet 16 of the American Debate Association national championship.
he University of Kentucky Debate Team housed in the College of Communication and Information swept two tournaments with impressive victories, placing first and second in two of the nation's most reputable tournaments.
The successful team was split between three tournaments recently competing in simultaneous tournaments at the U.S. Naval Academy, Dartmouth Round Robin and Indiana University.
During a three-day competition in the Naval Academy Tournament, the duo of Amar Adam and Theodore Noparstack once again took first. The tournament featured nearly 100 teams from 16 states. The two champions defeated a nationally top-ranked team from Trinity University in a 2-1 decision in the final round. Earlier in the tournament, Kentucky won victories over a number of powerhouse competitors including Georgetown University, Dartmouth College and the University of Michigan.
The team's second impressive performance came during the Dartmouth Round Robin tournament with a strong second place finish by competitors Dan Bannister and Anthony Trufanov. <<click the title above for the rest of the story>>
Mercer University's debate team competed in the American Debate Association (ADA) Fall Championship this past weekend at Wake Forest University.
The team of Cassie Malcolm, a junior English major, and Garrett Williams, a junior politics, philosophy and economics (PPE) major, reached the quarterfinals of the tournament, held Nov. 11-13 in Winston-Salem, North Carolina.
Additionally, Malcolm was ranked as the 10th-place individual speaker.
"Even though this was their first tournament of the entire year, these two remarkable students made it to the quarterfinals at the ADA Fall Championship," said Dr. Vasile Stanescu, director of debate at Mercer. "I continue to be impressed by the success of the Mercer education on the national stage."
This weekend UM policy debaters took a stand on healthcare at Mary Washington University outside DC. This event was the first Junior Varsity tournament for the squad, after having to miss an event at Georgia State University because of Hurricane Irma. Julia Lynch and Jiaying Li won three and lost three debates, nearly breaking into semifinals. Rene Betancourt and Daniel Gallego finished 2-4.
The debate motion for the tournament, which will be debated all year, is "The United States Federal Government should establish national health insurance in the United States." This topic taps into a broader, ongoing debate about healthcare in America as politicians on the left try to offer a more comprehensive alternative to Obamacare. The debaters used academic sources to describe a variety of models for national health insurance, including those brought forward by single-payer healthcare advocates like Bernie Sanders, and explained why or why not a transition to such a program would be beneficial.
After the warm-up at Mary Washington University, the debaters are ready to bring home some trophies from Las Vegas Classic Debate Tournament Oct. 20-22. Watch out for Miami Hurricanes in Nevada!
Viveth Karthikeyan and Kristen Lowe, both seniors at Emory, bested Harvard University's team to win the American Debate Association National Championship at George Mason University on March 13.
The duo was undefeated throughout the tournament as they challenged teams from Harvard University, Michigan State University, Wake Forest University, the University of Georgia and Missouri State University.
"This was not my first tournament win, but it was my first national championship win. It felt fantastic," says Karthikeyan, a neuroscience major. "I've been debating since ninth grade and it's really nice to see all the hard work and dedication I've put into debate pay off."
Two members of the UT Dallas debate team received honors at the American Debate Association national tournament and finished in the top eight at the competition. During the tournament, held March 10-14 at Boston College, seniors Anthony Ogbuli and Jacob Loehr accumulated a record of 4-2 in the preliminary debates, beating teams from George Mason University, the University of Georgia, Emory University and Georgetown University.
The Georgia Debate Union, which organizes and fields competitive policy debate teams at the University of Georgia, emerged victorious at the 2015 Vanderbilt intercollegiate debate tournament held in Nashville, Tennessee. The tournament featured over 50 teams from nearly 20 colleges and universities. Two teams representing the Georgia Debate Union "closed out" in finals, meaning they won each respective side of their elimination round brackets and tied for first place at the tournament. Teams from the same school typically do not debate each other.